Google Ads Agency
Full-Service Google Ads Management
We're a full-service Google Ads Agency that run successful campaigns for companies across various different industries. With a wide range of different budgets, from as little as £350 all the way up to £600,000, our team of Google Ads experts ensure your campaigns are well optimised and generate conversions from desired keywords.
Dedicated Google Ads Agency
Unlike other PPC Agencies, our sole focus is on Google Ads; we don't manage social media campaigns. With years of experience under our belts, we stick to what we're best at with the results to show for it! No matter if you're completely new to Google Ads or you've been running them a while, we work with you to create some key performance metrics, and build or tweak campaigns that are focused on achieving your goals.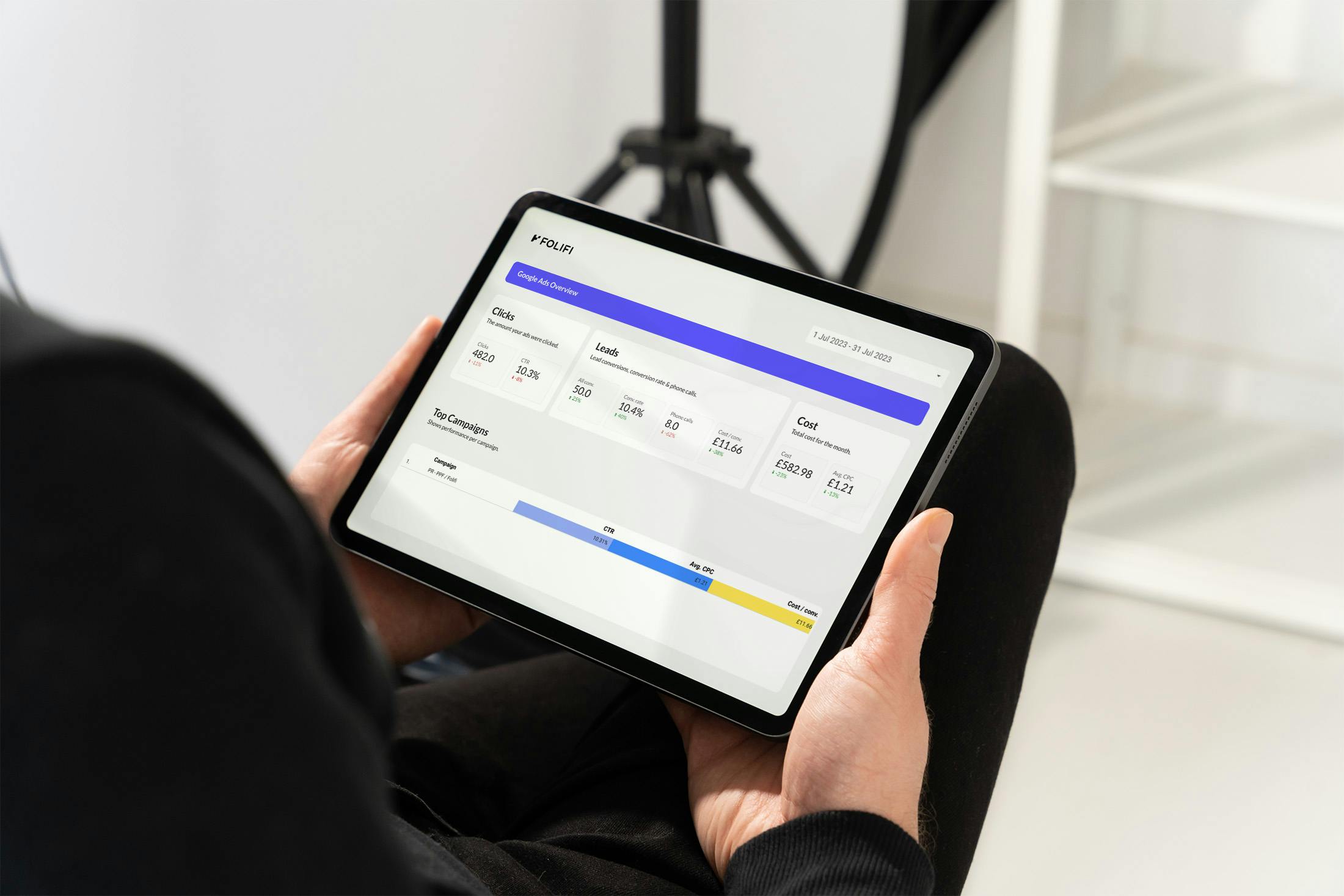 Google Ads Services
Our Google Ads agency provides not only industry-leading expertise, but also full-service solutions for paid advertising. Whether you're looking to launch a remarketing campaign or revise a series of shopping ads, our team of more than 500 digital advertising specialists can help.
Local Services
Google Local Services ads helps you connect with people local to you searching for your services. Appear at the top of results when locals search online for your services.
Retargeting
Retargeting ads are a very powerful tool for growing your revenue. That's because people who see retargeted ads are far more likely to convert, by either buying your product or getting in touch.
Google Shopping
If you're an eCommerce business, you should be taking full advantage of Google Shopping campaigns! The average spend for Google Shopping has increased by 40% year-over-year.
PPC Advertising
Companies that invest in PPC advertising on Google can earn an average return on investment of $8 for every $1 spent, according to Google estimates. We create a custom strategy for you on Google's ad network to drive more clicks but also revenue!
Conversion Rates
Conversion rates are the most common issue with Google Ad campaigns, usually down to inadequate ad copy and poor targeting. We optimise and test your ads, to ensure you get the best conversion rate possible from your campaigns.
Landing Pages
Good ads, targeting and keywords are only half the battle when it comes to an effective PPC campaign. Your landing pages are where visitors convert into leads. We build businesses user-friendly landing pages that drives leads, phone calls, revenue, and more!
The fastest way to drive quality traffic to your website.
Google Ads offers a measurable and trackable solution. By using this service in combination with Google Analytics, you can clearly see what was spent and, more importantly, what it drove in terms of conversions and results. You'll see high-level account activity details which are vital when looking to learn and continuously improve in order to drive performance forwards.
Managed Google Ads.
We solve your Google Ad headaches.
I'm not getting enough leads from my Google Ads campaigns.
Struggling to get qualified leads? Click-through-rate not good enough? Improve your lead generation with our Google Ads PPC plans, tailored to your goals and budget.
Reach your ideal audience
Fill up your lead pipeline
Maximise campaign opportunities
Managing my campaigns takes up too much time.
Managing, testing and optimising Google Ad campaigns takes up a lot of time. We understand. Our management services save you time and money, so you can focus on running your business!
Save time and money
Increase your revenue
Our experts do it all for you
My CPL from my campaigns is too high.
You shouldn't be wasting your money on campaigns. We'll streamline your bidding strategy and refine ad targeting, so you get the maximum impact from your Google Ad campaigns.
Engage your audience
Improve bidding strategy
Refine campaigns and targeting
Get in touch
Fill out the form and one of our Google Ads experts will be in touch with you soon.
Phone
Book a call with a Google Ads expert.
Calendly
Level up your Google Ads
You can reach us anytime via info@folifi.com
Thank you. We'll be in touch with you soon.
FAQs
Everything you need to know about Google Ads. Can't find the answer you're looking for? Drop us an email - info@folifi.com
Pay-Per-Click, or PPC, is a type of digital marketing that lets you place ads on an ad platform like Google Ads for example, and you pay Google (or the platform provider) a fee every time your ad is clicked.
We're a Google Ads Agency, what does that mean? Well, we're a digital agency that only offers Google Ads management as a PPC service, instead of offering PPC management for social media and other search engines as well. Google is the best place to advertise your business regardless of industry; it's the largest search engine in the world with over 5.6 billion searches per day! Our team of PPC experts can place an ad for your business right at the top of search results for given keywords, so you can accurately target your audience.
Our tiers are designed based on total ad spend. You pay the actual ad spend directly to Google, and we simply charge the management fee. Please note, we are unable to offer refunds for any ad spend paid to Google. Once ad spend payments are made to Google, they are final.
We have years of experience in managing campaigns across various different industries, with budgets from as little as £350 all the way up to £600,000. Our team of PPC experts ensure your Google Ad campaigns are well optimised and generate conversions from desired keywords, if you're completely new to Google Ads or not.
Yep, it sure does! Just having impactful search campaigns won't cut it, but we ensure your website and campaigns are fully optimised to capture leads or sales.